Alamitos Heights Real Estate Update
Since March 7, 2013 there have been 25 sales. There were 2 Short Sales and one REO(real estate owned), the rest were Standard sales. The low was 5481 8th Street which sold for $455,000 on January 29,2013. This was a 2 bedroom 1 bath home. The size per public record is 1,212 SF on a 3,367 SF lot. The highest sale was 426 Monrovia Avenue which sold for $1,449,000 on February 27,2013 and was on the market for 228 days. The size per public record is  3,575 SF on a 6,460 SF lot. The most recent closed sale per MLS was 636 Los Altos Avenue. This sold for $1,250,000 on February 27,2014.
 (click on Image for larger picture)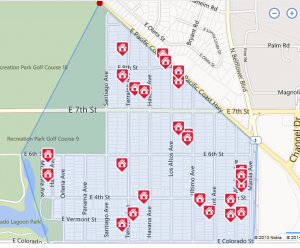 There are 6 Active Listings and 1 Pending/Backup per MLS. There are also 2 Pending private trusts sales that were not on the open market. Demand for homes in AlamitosHeights remains strong and values continue to edge up. We are still in a sellers Market.  
If you are thinking about selling your home, now is a good time. We are moving into the "home selling season". If you would like to find out the value of your home or would like to talk about selling it. Please call me, I am a Realtor and Real Estate Appraiser. I have lived in AlamitosHeights since 1996. Call me at 562.673.1138