I have been trying to get this post out for awhile.  So, lets not waste anymore time!
2014 was good year for AlamitosHeights. We had 24 sales. This keeps up with average we have seen over the past few years and is a consistent rise since 2012.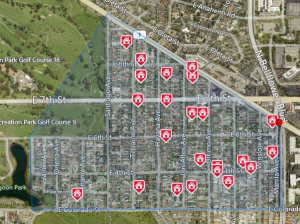 The Lowest price was $554,000 and the highest price was $1,275,000.  The average price is $901,979, and the Average Days on Market was 69 days.
September has the most closed sales with 4. This means these homes were active during the summer "selling months". However, April, July and December each had 3 closed sales.  I think the story here is, if you have a home with good appeal to the market it will sell at any time.
My favorite graph is the one below. This is a historical scatter graph that shows all the sales since 2001. You can really see the ups and downs of the market.
 Something I hear all the time from owners is, " Zillow says my home is worth, such and such"  Since I am also a Real Estate Appraiser, I find this chart interesting. I always tell people to lean to the conservative side when looking at a Zillow "Zestimate".  What do you think?
 Some of you may have stopped in while I was holding an open house at 750 Havana Avenue. What was confirmed is that there are A lot of people that want to live in AlamitosHeights.  If you have thought about selling, now is still a good time.
Speaking of selling; I have a new listing that will be coming on the Market on Orlena Ave. This is a 3 bedroom, 3 bathroom home with a Lap Pool and a Studio off the back of the garage(buyer to verify permits) If you know of anyone looking have the contact me.