The unofficial start of summer happened this past Friday in Alamitos Heights. The 80's and 90's cover band KNYGHT RYDER played at Marina Vista Park for the kickoff to the City of Long Beaches 100 Days of Summer ( www.100daysofsummer.org ) A good time was had by all.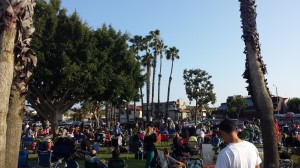 Some upcoming events worth seeing are:
Free Movie Screening of "42" the Jackie Robinson Story at Blair Field on July 19.
Dragon Boat Festival at Marine Stadium, July 26-27 (www.lbdragonboat.com )
Sprint Nationals speed Boat Races in Marine Stadium August 2-3  (www.scscracing.com )
Time to clean out the Garage and closets and make some money!
The Alamitos Heights Improvement Association is hosting a Community Yard Sale on Saturday June 19 from 7am to 12 noon. For more information contact president@ahia.info
Last is Wildlife. We live in an urban setting, we have our share of opossums, Raccoons and Coyotes that visit our neighborhood. The other morning I was driving north on Santiago and noticed this Coopers Hawk taking a morning bath in the street. Here are some facts about Coopers Hawks. ( All about Birds )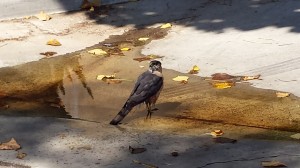 If you are thinking about sellingwant to know the current value of your home please send me an email  or call. If you know of someone looking for a 5 Bedroom Home, let me know.
Remember, I am a Realtor and Certified Appraiser, and have been a resident of Alamitos Heights for 18 Years.